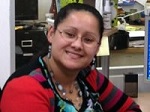 Elizabeth Alcazar-Zepeda did not let her deafness stop her from achieving her goals of attending college and securing a successful career in accounting.
While a student at the Virginia School for the Deaf and the Blind in Staunton, Elizabeth worked with DARS for transition planning and services. The agency provided Elizabeth and her family with guidance and counseling for college admissions and assisted her in applying for financial aid, scholarships and grants. In fall 2005, Elizabeth entered Gallaudet University in Washington, majoring in accounting.
"There were very great people at DARS who helped support my attendance at Gallaudet University," says Elizabeth.
At Gallaudet, Elizabeth was involved in a student organization, Keeping the Promise of Educating Latino Students. While raising a daughter, she maintained high academic standards, earning recognition as a President's Cum Laude Scholar, an honor reserved for undergraduate students whose cumulative degree grade point averages are 3.4 or above for the preceding semesters and who have earned at least 15 degree credits at Gallaudet, as well as Outstanding Academic Achievement for Summa Cum Laude. In 2011, she graduated at the top of her class.
Elizabeth credits much of her job search success to her collaborative efforts with her rehabilitation counselor. "She provided consistent support, direction and encouragement along the way. All of the experiences combined assisted in my effort to master the skills needed to ace my job interviews," says Elizabeth.
Elizabeth obtained a paid internship in the Gallaudet Department of Business Interpreting Service, commuting every work day from home while continuing to meet with her counselor and other DARS staff to work toward securing a full time position with benefits. During this time, Elizabeth says, "I learned networking was my best friend."
In June, she was interviewed and offered a job as an accounting assistant with Deaf-REACH (also known as the National Health Care Foundation for the Deaf), in Washington. "I love my job and I am enjoying the challenges involved. I am eager to learn more."