Deaf and Hard of Hearing Services
The Vocational Rehabilitation (VR) program helps individuals who are Deaf, Hard of Hearing, Late Deafened or DeafBlind get ready for work, find a job or keep a job. This helps to increase their ability to live independently in their communities. VR services may include vocational counseling, training, assistive technology, resources related to hearing loss, and job placement.
The Deaf and Hard of Hearing (DHH) program provides specialized vocational services with staff that are fluent in sign language to include:
Regional Vocational Counselors for the Deaf and Hard of Hearing (RCDs)
Statewide Pre-Employment Transition Counselor for the Deaf and Hard of Hearing (Pre-ETS Counselor)
Deaf and Hard of Hearing Services Center at Wilson Workforce and Rehabilitation Center (WWRC)
Program staff also provides community education and technical assistance to agencies, community organizations and employers involved with job training, job placement, and employment of persons who are deaf and hard of hearing.
Main Contact:
Mary Nunnally, Program Manager
Deaf & Hard of Hearing Services
Mary.Nunnally@dars.virginia.gov
8004 Franklin Farms Drive, Richmond, Virginia 23229

DRS Videophone (804) 325-1316
DRS Toll Free number (800) 552-5019
DRS Toll Free number (800) 464-9950 TTY
DRS Office Details Listing

---
---
Deaf and Hard of Hearing Success Stories
Elizabeth Alcazar-Zepeda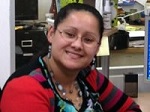 Elizabeth Alcazar-Zepeda did not let her deafness stop her from achieving her goals of attending college and securing a successful career in accounting.
While a student at the Virginia School for the Deaf and the Blind in Staunton, Elizabeth worked with DARS for transition planning and services. The agency provided Elizabeth and her family with guidance and counseling for college admissions and assisted her in applying for financial aid, scholarships and grants. In fall 2005, Elizabeth entered Gallaudet University in Washington, majoring in accounting.
"There were very great people at DARS who helped support my attendance at Gallaudet University," says Elizabeth.
At Gallaudet, Elizabeth was involved in a student organization, Keeping the Promise of Educating Latino Students. While raising a daughter, she maintained high academic standards, earning recognition as a President's Cum Laude Scholar, an honor reserved for undergraduate students whose cumulative degree grade point averages are 3.4 or above for the preceding semesters and who have earned at least 15 degree credits at Gallaudet, as well as Outstanding Academic Achievement for Summa Cum Laude. In 2011, she graduated at the top of her class.
Elizabeth credits much of her job search success to her collaborative efforts with her rehabilitation counselor. "She provided consistent support, direction and encouragement along the way. All of the experiences combined assisted in my effort to master the skills needed to ace my job interviews," says Elizabeth.
Elizabeth obtained a paid internship in the Gallaudet Department of Business Interpreting Service, commuting every work day from home while continuing to meet with her counselor and other DARS staff to work toward securing a full time position with benefits. During this time, Elizabeth says, "I learned networking was my best friend."
In June, she was interviewed and offered a job as an accounting assistant with Deaf-REACH (also known as the National Health Care Foundation for the Deaf), in Washington. "I love my job and I am enjoying the challenges involved. I am eager to learn more."
Read More
Serious Mental Illness (SMI)
DRS has received funds since 1986 from the Virginia General Assembly to provide services to individuals that experience serious and persistent mental illness (SMI). This program began initially as a result of a cooperative effort between DARS, the Department of Behavioral Health and Development Services (DBHDS) and local Community Services Boards (CSBs) and Behavioral Health Authorities (BHA in which DARS provided vocational rehabilitation (VR) services to mutual consumers of both agencies. The Program enhances consumer community and vocational successes by providing vocational development, placement, and job retention services, primarily in conjunction with 10 CSBs/BHAs located throughout the Commonwealth. This funding is primarily for DARS dedicated specialty counselors and a small amount of consumer purchases. DARS specialty counselors are assigned to work with the following CSBs/BHAs and their catchment area: Danville-Pittsylvania CSB, Henrico Area CSB, Colonial Behavioral Health, Hampton-Newport News CSB, Richmond Behavioral Health Authority, Blue Ridge Behavioral Health, Cumberland Mountain CSB , Harrisonburg Rockingham CSB, Rappahannock Area CSB and Chesapeake Integrated Behavioral Health.
DARS eligible individuals that experience serious and persistent mental illness that live outside the specialty counselor service areas will be served by a general caseload counselor in their nearest local DARS Field Office.